The Manic Blues is een Deense blues band uit Kopenhagen rond frontman/gitarist Henrik Bruhn. Hij wordt gebackt door Martin "Big" Skaastrup (gitaar), drummer Lars Møllenberg & bassist Jais Kurecko Eriksen. 
'Out of Nowhere' is de titel van het debuut album van de band. De 13 nummers op de tracklist van het album zijn relaxte originele bluesy songs van Martin "Big" Skaastrup & Jais Kurecko Eriksen. Na "Black Eye Booze", de opener waarin het venijnig bijtende gitaarspel van Skaastrup opvalt, krijgen ze op "Ain't that Good Enough" de steun van een blazerssectie die bestaat uit Mads Pinholt (sax) & Peter Kellermann Brandorf (trompet). Op "You" en met de steun van Hammond-organist Rasmus Stenholm en co-producer Søren Bøjgaard (tamboerijn) vervolgen ze met een broeierige voortslepende shuffle. Ook op "Suffer this Way" krijgt de band de steun van Stenholm en de blazers, die het snedige gitaarspel van Skaastrup ondersteunen.
De breekbare ballade "I Can Still Feel" is erg soulvol en "Big" Skaastrup laat zijn gitaar hard twangen in "Roll the Dice Again". Op het uptempo "Ain't  Going Back No More" levert hij daarna een fuzzend psychedelisch gitaargeluid af. "I've Got this Feeling" is een rustig wiegende blues mambo, gevolgd door het relaxt rockende "Reckless Girl". "Waste No Time" is een funky blues, op "Let You Go" ontmoet je J.J. Cale en Aretha Franklin, terwijl op de donkere instrumentale afsluiter "Low Tide", door het hard twangende gitaarspel, je niet ontkomt aan de Link Wray invloeden.
"On 'Out of Nowhere' The Manic Blues band makes great efforts to write and play great contemporary relaxed blues music … (ESC, Rootstime.be)
Eric Schuurmans
10 CD's te winnen!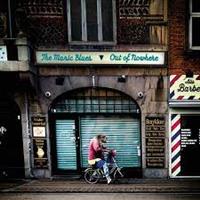 Wil je daar kans op maken, dan mail je ons gewoon even:
je naam, je adres en de vermelding: THE MANIC BLUES
Binnen een aantal weken wordt uit alle inzendingen de gelukkigen getrokken.
Wij hopen dat u massaal Rootstime - hier - zult mailen
De winnaars worden per mail verwittigd.
'OUT OF NOWHERE': tracklist: 01. Black Eye Booze – 02. Ain't that Good Enough – 03. You – 04. My Daddy Said – 05. Suffer this Way – 06. I Can Still Feel – 07. Roll the Dice Again – 08. Ain't  Going Back No More – 09. I've Got this Feeling – 10. Reckless Girl -  11. Waste No Time – 12.Let You Go – 13. Low Tide | Music/Lyrics: Jais Kurecko & Martin "Big" Skaastrup | Producer: The Manic Boys & Soren Bøjgaard | Credits: Henrik Bruhn: vocs, guitar / Martin "Big" Skaastrup: guitar / Lars Møllenberg: drums / Jais Kurecko Eriksen: bass & Mads Pinholt: sax (2,5,7,9,11), Peter Kellermann Brandorf: trumpet (2,5,7,9,11) / Søren Bøgaard: tambourine, handclaps, bells, shaker, vibraslap (2,3,7,8,10-13), Rasmus Stenholm: Hammond organ (3,4,7,9,13), piano (5,9), Würlitzer (13) / Josef Baumgartner: Hammond organ, piano (6)
Discography THE MANIC BLUES: Out of Nowhere [2023] |