Leonardo Giuliani, een onafhankelijke muzikant, gitarist en singer-songwriter, vestigde zich in Groot-Brittannië, om aan zijn muzikale carrière te bouwen. Zijn muziek wordt beïnvloed door rock, blues, country en folk, door artiesten en bands uit de late sixties en seventies. In 2019 had hij de eer om uitgenodigd te worden bij Buddy Guy in zijn Legends Club in Chicago, een van zijn blues invloeden en een gitaaricoon.
Zijn debuutalbum verscheen aanvang dit jaar. 'Rogue' werd geproducet door producer Tom Hambridge, viervoudig Grammy Award-winnaar, die ook drums speelt op het album. Phil Palmer speelt op slaggitaar en Robben Ford is gast op één nummer. 'Rogue', Giuliani's debuut is op de eerste plaats een album waarin Leonardo Giuliani vooral als muzikant zijn vakmanschap op een van zijn gitaren etaleert, wat resulteert in qua stijl erg uiteenlopende songs.
"No Limits", de opener, is een typisch Giuliani-nummer. Het is een van de vele rustige nummers, dat zweeft op de prachtige klanken van zijn resonator gitaar. Het uptempo "Down Under the Blue Line" en het funky "Easy My Blue" zijn hierop even de uitzondering, want "A Thousant Miles Away from Home" is een prachtige ballade met een country gevoel en in het relaxte "Maze of Gold" zingen Rachel en Sarah (dochters van producer Tom Hambridge) onopvallend in het koortje. "None as Deaf" en "Time Will Tell" zijn emotioneel erg geladen songs, terwijl op het vlot rockende "If You're Looking for the Devil" Giuliani uit zijn roes te lijkt ontwaken. "Surrendering to the Blues" is een slow blues à la lettre en "Thunder far Away" al de volgende relaxte ballade. Op "Dead Man Walking" trekt Giuliani zich langzaam op gang en voel je de spanning stijgen, het funky "A Bluesman Gives Wat a Bluesman's Got" is de bijna shuffle die hier ontbrak en op "Nothing But My Babe", de afsluiter, lijkt Giuliani zich onopvallend te willen terugtrekken met Peter De Girolamo achter de piano, in de anonimiteit van de nacht. Moet kunnen!
"On 'Rogue', Leonardo Giuliani mainly demonstrates his craftsmanship as musician and musical diversity…" (ESC, Rootstime.be)
Eric Schuurmans
10 CD's te winnen!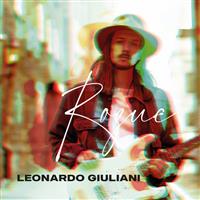 Wil je daar kans op maken, dan mail je ons gewoon even:
je naam, je adres en de vermelding: LEONARDO GIULIANI
Binnen een aantal weken wordt uit alle inzendingen de gelukkigen getrokken.
Wij hopen dat u massaal Rootstime - hier - zult mailen
De winnaars worden per mail verwittigd.
'ROGUE': tracklist: 01. No Limits – 02. Down Under the Blue Line – 03. Easy My Blue – 04. A Thousant Miles Away from Home – 05. Maze of Gold – 06. None as Deaf – 07. Time Will Tell – 08. If You're Looking for the Devil – 09. Surrendering to the Blues – 10. Thunder far Away – 11. Dead Man Walking – 12. A Bluesman Gives Wat a Bluesman's Got – 13. Nothing But My Babe | Music/Lyrics: Leonardo Giuliani | Producer: Tom Hambridge | Credits: Leonardo Giuliani: vocs, e, a + resonator guitar / Phil Palmer: e +a guitar (exc. 4,9,13) / Tom Hambridge: drums, percussion, b-vocs / Mick Brill: bass / Peter De Girolamo: Fender Rhodes, piano, Hammond organ, Würlitzer e piano / Robben Ford: e guitar (3) / Rino D'Angelo: e guitar (9) / B-vocs: Francesca Simonetti (4,10), Rachel Hambridge (5), Sarah Hambridge (5)
Discography LEONARDO GIULIANI: Rogue [2023] |