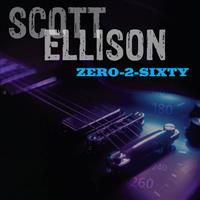 Artiest info
Website
facebook
label: Liberation Hall
info: Frank Roszak Promotion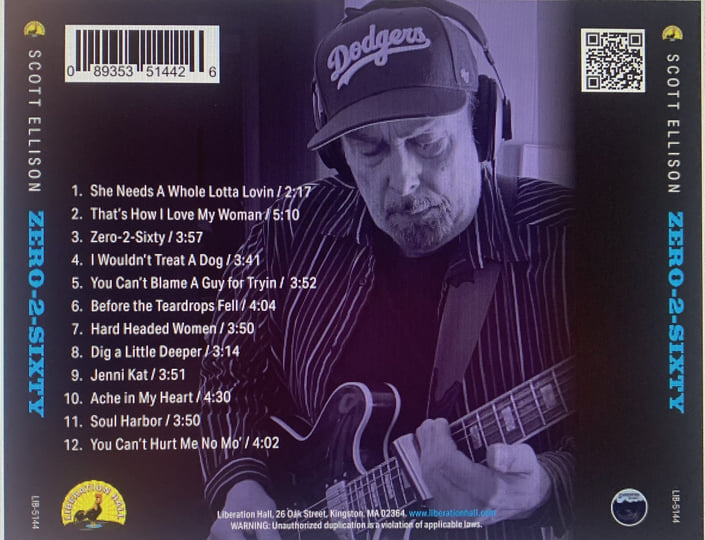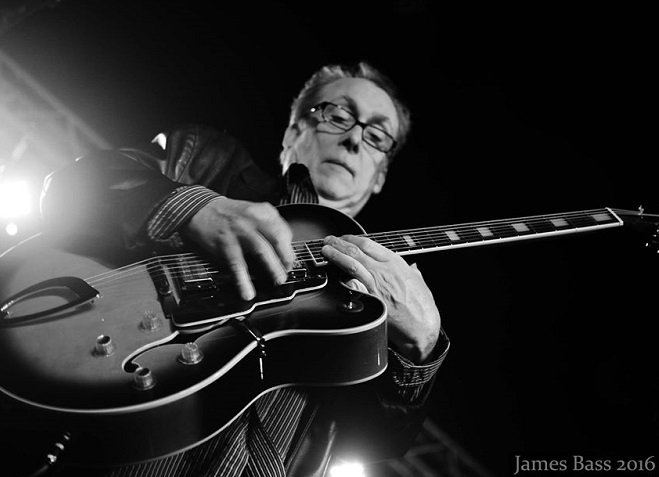 "On 'Zero-2-Sixty' Ellison wanted to strip things down and deliver a juke-joint-rockin' blues set to deepen the groove…"
De uit Tulsa (OK) afkomstige singer-songwriter en gitarist Scott Ellison is voor blues liefhebbers en Rootstime al lang geen onbekende meer. In 1981 speelde hij in de band van blues man Clarence "Gatemouth" Brown (1924-2005) en midden jaren tachtig verhuisde Ellison naar Los Angeles (CA). Hij speelde er o.a. met The Box Tops, The Drifters, The Coasters, Gary "US" Bonds en Peaches & Herb. Pas in de jaren negentig richtte hij zijn eigen bluesband op. Hij opende daarna o.a. voor Joe Cocker, Roy Orbison, The Fabulous Thunderbirds, Leon Russell, Bobby Bland en Buddy Guy.
Ellison debuteerde in 1993 solo met 'Chains of Love' en in 1995 volgde 'Live @ Joey's'. Nadat hij terug keerde naar "zijn" Tulsa, werden 'Steamin'' (1997) en 'One Step from the Blues' (2000) uitgebracht. 'Cold Hard Cash' (2001) was met producer Dennis Walker (Robert Cray) zijn eerste release bij het Burnside label. Daarna volgden nog 'Bad Case of the Blues' (2003), 'Ice Storm' (2008) en 'Walking Through the Fire' (2012). Als opvolger van 'Elevator Man' (2015) verscheen er in 2017 'Good Morning Midnight', een album dat met producers Walt Richmond en Charles Tuberville opgenomen werd. Zijn productieve aard lag ook aan de basis van 'Skyline Drive' (2020) en 'There's Something About the Night' (2022).
"Over the course of 12 tracks, Scott evokes the best of the Midwest blues sound, a sort of Chicago-meets-Texas-meets-Oklahoma boogie to a full-tilt rockin' blues workout, plus a heaping measure of pure soul and a roots-driven authenticity that can't be faked…"
Voor zijn nieuwe album, Zero-2-Sixty, wilde Ellison: "de boel strippen en een voor een juke joint geschikte rockende blues set afleveren. Zijn verschroeiende gitaar en doordrenkte zang zorgen voor een krachtig statement met respect voor de traditie en blik op de toekomst. In de 12 songs roept Scott het beste van de Midwest blues sound op, een soort Chicago-meets-Texas-meets-Oklahoma boogie tot een full-tilt rockin' blues workout, plus een hoop pure soul met een roots gestuurde authenticiteit, die niet kan worden vervalst…".
Ellison schreef en nam op vanuit zijn geboorteplaats Tulsa en nodigde een aantal zéér speciale gasten en oude vrienden uit, om zijn primaire begeleidings- en toerbands op dit album te versterken. De legendarische producer Steve Barri (die hits produceerde voor The Turtles, Four Tops, Lionel Richie, Rick James, Johnny Rivers e.a.) werkte mee aan het project. Met een scala aan stijlen, breidt Ellison met 'Zero-2-Sixty' zijn legendarische nalatenschap uit en weet hij ongetwijfeld zowel critici als fans zal boeien. De 12 nummers schreef Ellison met Michael Price en aan vier nummers werkte Chris Campbell mee.
Enthousiast opent het album al rockend met"She Needs a Whole Lotta Lovin", op de slow blues "That's How I Love My Woman" kan je al even uitblazen en met de titelsong wordt het meer funky. In Chicago zit je op "You Can't Blame a Guy for Tryin", "Hard Headed Woman" en "Jenni Kat". Voor "Ache In My Heart" neemt Ellison even plaats achter het orgel en op het rustige "Soul Harbor" verzorgt hij mee de percussie en de achtergrondzang. Op "You Can't Hurt Me No Mo'", de afsluiter, is de relaxte frontman een uitstekend gitarist, die ook goed zingen kan.
"A great Scott Ellison shows on 'Zero-2-Sixty' that he's still at the top…" (ESC, Rootstime.be)
Eric Schuurmans
Releasedatum: 10 maart 2023
'ZERO-2-SIXTY': tracklist: 01. She Needs A Whole Lotta Lovin – 02. That's How I Love My Woman – 03. Zero-2-Sixty – 04. I Wouldn't Treat A Dog [w/Michael Omartian] – 05. You Can't Blame A Guy For Tryin – 06. Before the Teardrops Fell – 07. Hard Headed Woman – 08. Dig A Little Deeper – 09. Jenni Kat – 10. Ache In My Heart - 11. Soul Harbor - 12. You Can't Hurt Me No Mo' | Music/Lyrics: Scott Ellison, w/Michael Price & Chris Campbell (6,8,10,11) or as [noted] | Recorded by Brett Baldwin & Scott Ellison @ Natural Digital Studio in Tulsa, Oklahoma / Mastered by Kim Rosen @ Knack Mastering in Ringwood, NJ / Producer: Steve Barri & Scott Ellison | Credits: Scott Ellison: lead + b-vocs, lead, e, rhythm + slide guitar, organ (5,9,10), bass (7), tambourine / Jon Parris (1,2,4,11,12), Ron Morgan (3,6,10) & Matt Kohl (5,8,9): bass / Robbie Armstrong (1,2,4,6,10,11) & Matt Teegarden (3-5,7-10,12): drums / Danny Timms (2,4,6): piano, e piano, Hammond B3 / Hank Charles (4,5,8,10,12): piano, organ, e piano / David Bernston (1): harmonica
Discography SCOTT ELLISON: Zero-2-Sixty [2023] | There's Something About the Night [2022] | Skyline Drive [2020] | Good Morning Midnight [2017] | Elevator Man [2015] | Walkin' Through the Fire [2011] | Ice Storm [2008] | A Bad Case of the Blues [2003] | Cold Hard Cash [2001] | One Step from the Blues [2000] | Steamin' [1997] | Live @ Joey's [1995] | Chains of Love [1993] |