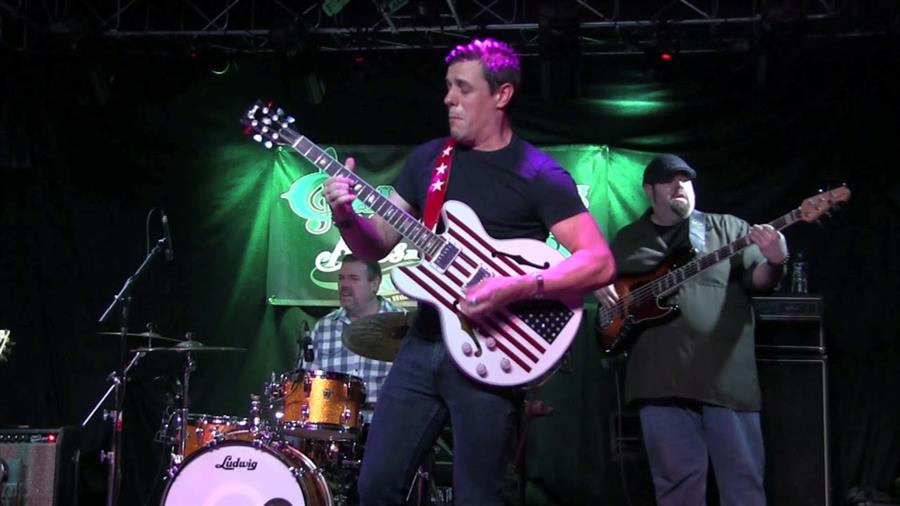 "The creative artistry of Nick Schnebelen continues to grow…"
Blues zit er bij de familie Schnebelen-Swedlund duidelijk in het bloed. Robert Schnebelen & Lisa Swedlund waren erg actief in de Kansas City blues scene (Missouri), waar ze optraden onder de naam Little Eva & The Works. Ze hadden drie muzikale kinderen. Hun grootmoeder was een bigbandzangeres, hun grootvader speelde gitaar en hun overgrootvader was al in de jaren 1920 lid van een string band.
Trampled Under Foot, de legendarische Amerikaanse soul/blues- en blues/rockband bestond oorspronkelijk (van 2008 tot 2015) uit Danielle (lead zang en bas), Nick (gitaar en zang) & Kris (drums en zang) Schnebelen, de drie kinderen van Robert & Lisa. Hun album uit 2013 'Badlands' (2013), bereikte nummer één in de Amerikaanse Billboard Top Blues Albums Chart. Ze treden nu alle drie met een eigen band op.

De stijl van de Nick Schnebelen Band (Nick: zang, gitaar, Cliff Moore: bas & Adam Hagerman: drums) wordt omschreven als: "Echos of the blues like Freddie King and Buddy Guy…". "Slick" Nick, is de blues ten voeten uit en in zijn nummers vertelt Nick met behulp van scheurende gitaarlicks, de muzikale droefenis die de blues zo dikwijls vertegenwoordigt. De laatste tijd toeren Nick en de band in Europa als openingsact voor George Thorogood & the Destroyers.
Na twee opeenvolgende live albums met de Nick Schnebelen Band -'Live in Kansas City' (2017) & 'Live @ Knuckelheads' (2016)- bracht Nick in 2019 zijn eerste solo studio album uit, 'Crazy All By Myself'. Hij nam het op met producer, drummer, Grammy &  Blues Music Award winnaar, Tony Braunagel (Taj Mahal, Robert Cray) en met enkele leden van Taj Mahal's Phantom Blues Band (Mike Finningan: orgel & piano - Johnny Lee Schell: ritme gitaar). Als gasten waren er ook Jason Ricci & Dustin Arbuckle (harmonica) en Davy Knowles (gitaar) bij.
Na vier jaar werd 'What Key Is Trouble In?', de opvolger bij de VizzTone-labelgroep uitgebracht. Nick nam het album op met zijn ervaren ritmesectie (Adam Hagerman & Cliff Moore) én met gasten: Red Young op keyboards (Eric Burden, Marcia Ball, Janiva Magness), Buddy Leach op sax (George Thorogood) en Aaron Mayfield op orgel. Co-producer was Blues Music Award-winnaar Chris Hardwick (Watermelon Slim).
De 13 originele nummers op de tracklist zijn naast "Ten Years After, Fifty Years Later", waarmee het album opent, de swingende titelsong waarop de dans geleid wordt door Nick's gitaar en de rustige maar aanstekelijke shuffle "Hard Driving Woman", het tweede nummer dat op al op single uitkwam. "Love In My Heart" is een funky uptempo nummer met gospel invloeden, dat aanzet om mee te zingen en "Blues Nights" een ballade die rust brengt. "Will I Stay" en de boogie met de sax solo van Buddy Leach, "Johnny Cheat" zijn sterke gitaar gedreven nummers met een uitstekende groove en "People Worry About Me",nog een laatste portie beklijvende gitaarlicks, Nick Schnebelen op zijn best.
"On Nick Schnebelen's second studio album, 'What key is trouble it?' the four years were more than worth waiting… (ESC, Rootstime.be)
Eric Schuurmans
Release date: 10 March 2023
'WHAT KEY IS TROUBLE IN?': tracklist: 01. Ten Years After, Fifty Years Later - 02. What Key Is Trouble In? - 03. Love In My Heart - 04. Blues Nights - 05. Hard Driving Woman - 06. Will I Stay - 07. Pain Aside - 08. Poor Side of Town - 09. Johnny Cheat - 10. Big Mean Dog - 11. Over the Cliff - 12. Throw Poor Me Out - 13. People Worry About Me | Music/Lyrics: Nick Schnebelen, w/Adam Hagerman (5,7,11), or as [noted] | Producer: Chris Hardwick & Nick Schnebelen| Produced: Chris Hardwick & Nick Schnebelen | Credits: Nick Schnebelen: vocs, guitar / Adam Hagerman: drums / Cliff Moore: bass & Guests: Red Young: keyboards, Buddy Leach: sax & Aaron Mayfield: organ
Discography NICK SCHNEBELEN (BAND*): 2-What Key Is Trouble In? [2023] | 1-Crazy All By Myself [2019] | Live in Kansas City (Recorded live @ Knuckleheads Saloon, December 3, 2016) [2017] | Live @ Knuckelhead's Vol. 1* (w/Danielle Schnebelen) [2016] || TRAMPLED UNDER FOOT: Badlands [2013] | Wrong Side of the Blues [2011] | Live @ Notodden Blues Festival [2010] | May I Be Excused [2008] | The Philadelphia Sessions [2007] | Trampled Under Foot [2006] |