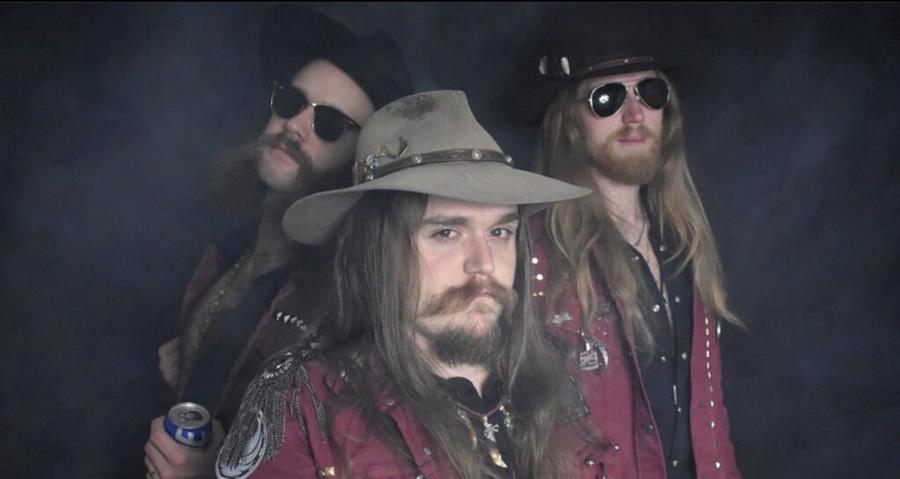 "The moment of The Comancheros seems really close now…"
Drie ruige bebaarde muzikanten uit Missouri spelen onder de naam The Comancheros een mix van aanstekelijke klassieke rock, blues en country met een western/cowboy manier van kijken naar de wereld. De line-up bestaat uit leadzanger/gitarist Tanner  Jones, drummer Michael "Bobcat" Cook en bassist/zanger Jon "Deere" Green. Het trio weet perfect om te gaan met rock songs, dramatische ballades, in roadhouses  gespeelde alt-country en Texas' stijl blues/rock. Jones, Green & Cook performen al samen sinds 2015 en deelden het podium al met Randy Rogers, The Cadillac Three, Drake White, The Steel Woods, Alabama, Whiskey Myers, Blackberry Smoke en de Nitty Gritty Dirt Band. Het lijkt er nu echt op of hun moment nabij is.
Ze brachten op het einde van het voorbije jaar hun derde album, 'Memphis to Mexico' uit. Richard Young van The Kentucky Headhunters was de producer tijdens de opnames van de zeven originele songs. Het album opent met "Old Mexico", een stompende rocker die het zeker live zal doen. Het laat ook al direct horen dat Tanner Jones de nodige vocale kwaliteiten in huis heeft, om het publiek snel in zijn greep te houden. Het gitaarwerk is oké en het ritme strak. De dubbele kickdrums aan het einde maken het nummer af. "Shoot Me Down" is een uitstekende aansluiter met een hoog ZZ Top-gehalte en een melodie, die snel goed in de oren klinkt. "If I Was a Cowboy" is een ballade, het éérste rustige intermezzo en Yellow Roses" de eerste single van het album. Dit oldskool countrynummer zal zeker de nodige radiozendtijd halen. "Happy Birthday to Me" is al de volgende meezinger en "Blue Yodel in G" een swampy song die door zijn refrein hier goed past. Het rustige akoestische "If I Could Pick a Way to Go"  is daarna de afsluiter. Een country song met wat slide gitaar, om voor bij het kampvuur van te genieten. 
"On 'Memphis to Mexico' The Comancheros stay true to their style with roots music that pleases the audience…" (ESC, Rootstime.be)
Eric Schuurmans
'MEMPHIS TO MEXICO': tracklist: 01. Old Mexico – 02. Shoot Me Down – 03. If I Was a Cowboy – 04. Yellow Roses – 05. Happy Birthday to Me – 06. Blue Yodel in G – 07. If I Could Pick a Way to Go | Music/Lyrics: The Comancheros, or as [noted] | Producer: Richard Young | Credits: Tanner Jones: lead guitar, vocs / Jon "Deere" Green: bass, vocs, slide guitar / Bobcat Cook: drums & Doug Phelps: slide guitar (2), Richard Young: b-vocs (2), TJ Lyle: organ (1,3) 
Discography THE COMANCHEROS: Memphis to Mexico [11/2022] | Mississippi Kid (single) [05/2022] | Cowboy Song (single) [03/2022] | We Own the Night (single) [10/2020] | Too Old to Die Young Now [2020] | Heavy & Western [2018] |