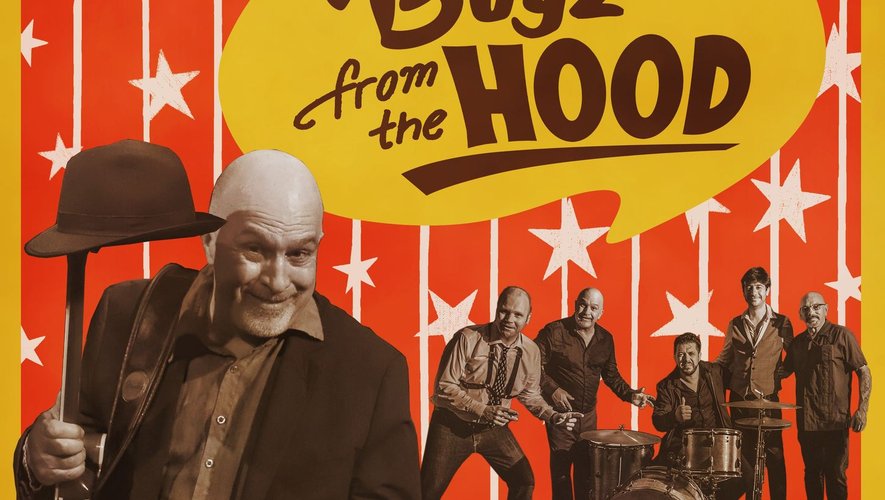 "Na 35 jaar toeren, staat hij er terug met The Boyz…"
Na méér dan 30 jaar toeren over de hele wereld, stelt Bernard Sellam na AWEK trots zijn nieuwe project voor: Bernard Sellam & The Boyz From the Hood. Het is een vijfkoppige band uit de regio Toulouse, gemaakt voor op een podium te staan en om de dansen te leiden in de pure Swing en R&B-tradities van de fifties. De vintage show à la lettre wordt geproduceerd door professionele muzikanten als bassist Eric "Church" Léglise, drummer Julien Bigey & saxofonisten Franck Mottin, Manu Lochin en David Cayrou. Hun repertoire is geschreven door de allergrootsten: B.B. King, Johnny Guitar Watson, Lowell Fulson, Guitar Slim, Gatemouth Brown, maar ook door Bernard Sellam zelf.
Over frontman Bernard Sellam en Awek nog dit: na 28 jaar gespeeld te hebben met Awek -het vlaggenschip van de Franse blues scene- verliet Sellam (in goed overleg, omdat twee grote projecten gelijktijdig doen onmogelijk was) Awek. In de band, die zijn weg vervolgt, vervangt Fabrice Joussot (ex-Flying Saucers Gumbo Special) Sellam. Awek is een band die vooral in zijn thuisland Frankrijk (Cognac 2009) maar ook in Noord Amerika (Antone's in Austin, TX) optreedt. Awek  was finalist tijdens de IBC 2008. Bernard Sellam (zang, gitaar) was de frontman en de overige leden zijn: Stephane Bertolino (harmonica, Best Harmonica Player 2011), Joel Ferron (bas) & Olivier Trebel (drums). Hun album 'Long Distance' (2017) namen ze op drie plaatsen op: acht nummers in de Elexir Studio in Toulouse, vier nummers in de Black Box Studio in Brussel en twee nummers in de Wire Recording Studio in Austin, TX.
"Une autre forme de blues, un autre groupe, de nouvelles créations avec d'autres très bons musiciens m'appellant…" (B. Sellam)
Bernard Sellam's debuut album met The Boyz from the Hood kreeg de naam 'Feelin' So Fine'. Vanaf het openingsnummer (het titelnummer) hoor je al, waarom Sellam bij Awek een belangrijk speerpunt was. Met zijn gitaar en stem staat hij nog steeds op de voorgrond, maar de songs zijn nu meer verankerd in de vintage blues van jaren vijftig, zoals blijkt uit de meeste covers: "You Get Me Reeling & Rocking" (Roy Milton), "You Were Wrong" (Z.Z. Hill), de Texas-shuffle "Midnight Hour" (Gatemouth Brown) en "The Hustle Is On" (T-Bone Walker). Qua versterken en verbreden van het klank timbre, zijn de blazers (Franck Mottin: tenor/alt sax, Manu Lochin: bariton/tenor sax & David Cayrou: bariton sax) hier erg belangrijk. Luister om dit te ontdekken hiervoor goed naar de ouderwetse mamba's zoals het instrumentale "Jalapeño Blues" of de geslaagde update van Brook Benton's "I'll Take Care of You" én de originele songs zoals "Kiss Me or Leave Me", "Early Birds Special" -een duidelijke knipoog naar de Fabulous Thunderbirds- of "You Gonna Want Me". Dat Jimmie Vaughan een van Sellam's grote voorbeelden is blijkt uit hun versies van Chandler & McDennell's "Let It Roll" en Jimmy Lewis' "Last Night", evenals de original "Never Said a Word", waar Sellam's acteren (of zelfs zingen) openlijk de erfenis van de oudste van de Vaughan-broers lijkt…
"Sur 'Feelin' So Fine', Bernard Sellam & The Boyz from the Hood profitent pleinement (avec nous) du Rhythm & Blues des années cinquante…" (ESC, Rootstime.be)
Eric Schuurmans
'FEELIN' SO FINE': tracklist: 01. Feelin' So Fine – 02. You Get Me Reeling & Rocking [Roy Milton] – 03. You Were Wrong [Z.Z. Hill] – 04. Kiss Me or Leave Me – 05. Jalapeño Blues – 06. I'll Take Care of You [Brook Benton] – 07. Let It Roll [Stephen Chandler/Jimmy McDennell] – 08. Midnight Hour [Gatemouth Brown] – 09. Early Birds Special - 10. The Hustle Is On [T-Bone Walker] – 11. Never Said a Word – 12. Last Night [Jimmy Lewis] - 13. Too Much Pride [Alex Thomas] – 14. You Gonna Want Me - 15. I Hate Monday | Music/Lyrics: Bernard Sallem (1,4,5,9,11,14,15), or as [noted] | Credits: Bernard Sellam: vocs, guitar / Eric "Church" Léglise: bass, b-vocs / Julien Bigey : drums / Franck Mottin: tenor, alto sax / Manu Lochin: baritone, tenor sax / David Cayrou: baritone sax – Guests: Drew Davis (sax solo: 13), Nita Fabiani (piano) & Remi Vidal (trombone)
Discography BERNARD SELLAM & THE BOYZ FROM THE HOOD: Feelin' So Fine [2023] ||