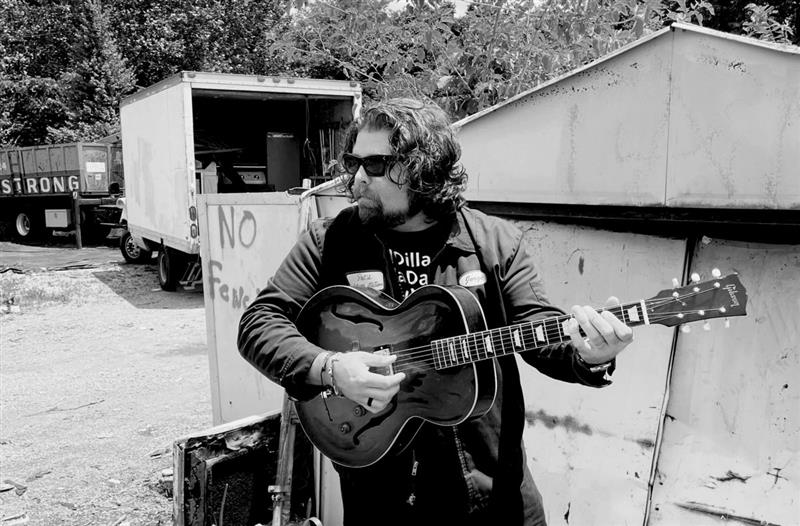 "JD masterfully combines old school blues with powerful and intriguing rock grooves…"
JD Simo (aka J.D. Simo, Jeffrey Simo of Simo) is een in Nashville (TN) wonende gitarist, singer-songwriter en producer. Hij was tot in 2017 de frontman van de rock band SIMO. Het was bassist Frank Swart die in 2010 JD Simo contacteerde, voor een jam sessie die hij wou doen samen met drummer Adam Abrashoff, met wie hij al eerder samen speelde. Na een sessie van meer dan drie uren, besloten ze samen SIMO te vormen. SIMO debuteerde in 2011 met een titelloos album en toerde daarna uitgebreid in Centraal Amerika. In 2015 openden ze voor Gregg Allman en Deep Purple, namen ze deel aan Joe Bonamassa's eerste blues cruise ('Keeping the Blues Alive at Sea Music Festival') én namen ze de EP 'Love, Vol. 1' op. In datzelfde jaar, vervangt Elad Shapiro Swart als bassist.
Na de split van SIMO treedt JD Simo solo op en als trio. Solo debuteerde hij met 'Off at 11' (2019). Daarna volgde in 2020 een titelloos album, de missing link tussen Woodstock en Motown en 'Mind Control' (2021). Vrij recent verscheen zijn vierde solo studio album, 'Songs from the House of Grease'. JD deelde ondertussen het podium met Jack White, Luther Dickinson, Dave Cobb en Blackberry Smoke.
"This album is a live snapshot of me and the fellas playing some favourite tracks that hadn't been captured yet on record. I couldn't be prouder of this, as it honestly captures my best playing ever…" (JD)
'Songs from the House of Grease' is een album van het JD Simo Trio. JD nam de vijf nummers voor het album vorig jaar op met bassist Todd Bolden en drummer Adam Abrashoff in de House of Grease in Nashville. De tracklist bevat een cover van John Coltrane's jazzy "Afro Blue", Blind Alfred Reed's "How Can a Poor Man Stand Such Times and Live" en als opener Mississippi Fred McDowell's country blues "Mortgage On My Soul", dat hier door de Afro-beat nog meer hypnotiserend klinkt. "Higher Plane" stond op JD's titelloze solo album uit 2020. "Missy's Strut" is een nieuw nummer, een aanstekelig funky instrumental met veel wah-wah gitaar. Het bijna 13 minuten durende "Higher Plane Pt 1 & Pt 2" is een rustige free jazz jam, terwijl JD knipoogt naar Jimi hierboven.
"JD Simo continues with 'Songs from the House of Grease', playing quirky and grandiose his favourite tunes…" (ESC, Rootstime.be)
Eric Schuurmans
'SONGS FROM THE HOUSE OF GREASE': tracklist: 01. Mortgage On My Soul [Fred McDowell] – 02. Afro Blue [John Coltrane] – 03. Missy's Strut – 04. How Can a Poor Man Stand Such Times and Live [Blind Alfred Reed] – 05. Higher Plane Pt 1 & Pt 2 | Music/Lyrics: JD Simo, or as [noted] | Credits: JD Simo: vocs, guitar / Todd Bolden: bass / Adam Abrashoff: drums
Discography JD Simo (SIMO*): 4-Songs from the House of Grease [2023] | 3-Mind Control [11/2021] | Dr. Awesome's Fully Vaccinated Space Jazz Orchestra Vol. 1 [09/2021] | 2-JD Simo  [2020] | 1-Off at 11 [03/2019] | All I've Got Is You (single) [06/2019] | Rise & Shine* [2017] | Let Love Show the Way* [2016] | Love, Vol. 1* (EP,4#) [2015] | SIMO* [2011] | The Other Side of Me [2004] | One Night Stand [2002] | Introducing… J.D. Simo Burnin' Live (EP,5#) [2000] |