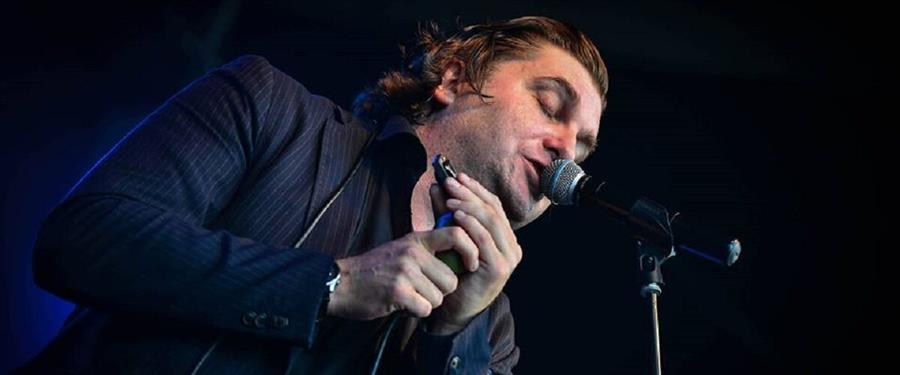 "BLUES from the ROAD…"
Mondharmonicaspeler en zanger Giles Robson is wereldwijd in de blues scene geen onbekende. Hij mag zich de éérste Brit en Europeaan noemen die debuteerde op een Amerikaanse label en, nog niet bij de "minste". Bij Alligator Records verscheen in 2019 zijn meest recente studio album, 'Don't Give Up On the Blues'. Daarnaast is hij naast Peter Green en Eric Clapton de 3de Brit die een Blues Music Award (de "Grammy" of the Blues) wint. Hij deed dit in 2018 samen met Joe Louis Walker en Bruce Katz met 'Journeys to the Heart of the Blues'.
Als mondharmonicavirtuozen als Sugar Blue en Paul Jones je omschrijven als één van de grootste blues harmonicaspelers, dan weet je het wel. Giles Robson behoort tot het kruim van de huidige blues generatie. Uiteraard heeft hij goed en veel geluisterd naar mentors als Little Walter en James Cotton, maar toch is hij er ondertussen in geslaagd om een eigen stijl te ontwikkelen. Giles Robson is geen imitator, hij schrijft zijn gehele oeuvre zelf. In 2014 debuteerde hij met The Dirty Aces met 'Crooked Heart of Mine', in 2016 volgde zijn solodebuut 'For Those Who Needs The Blues'. Als frontman van de Giles Robson Band wordt hij gebackt door Andy Knight, Jeff Walker & Darren J Crome.
Als opvolger van zijn 2de solo album 'Don't Give Up on the Blues' (2019) bracht hij in eigen beheer de 5-track ep, 'Blues from the Road Vol1: FRANCE' uit. Het werd opgenomen tijdens een tournee in Frankrijk met gitarist Franck Goldwasser, de legendarische pianovirtuoos Philippe LeJeune, drummer Pascal Delmas en bassist Mig Toquereau. Goldwasser is een in Parijs geboren gitarist die in de VS samenwerkte met enkele "groten" als James Cotton, Jimmy McCracklin, Curtis Salgado en Charlie Musselwhite. Hij maakte ooit deel uit van de Mannish Boys en brengt zelf ook een aantal uitstekende albums uit. LeJeune is een toonaangevende Franse pianist Philippe die samenwerkte met Memphis Slim op 'Dialog In Boogie' (1988).
Giles Robson maakt het vanaf de prima opener "Too Hot for the Devil" die hij, zoals "Turnin' and Burnin'", met de volledige band met heel veel groove en gevoel doet, als op de intieme en emotionele duo-uitvoeringen als "These Deep Blues" en "Blues for Toulouse" tot de zwaar groovende gitaar en mondharmonica instrumentaal "Stompin' at Lolo's Place", voor iedereen duidelijk dat het bij hem om blues vanuit het hart gaat. 
"Giles Robson and some great French musicians shine on 'Blues from the Road Vol. 1: FRANCE'…" (ESC, Rootstime.be)
Eric Schuurmans
'BLUES FROM THE ROAD VOL. 1: FRANCE': tracklist: 01. Too Hot for the Devil – 02. These Deep Blues – 03. Stompin' at Lolo's Place – Turnin' and Burnin' - 05. Blues for Toulouse | Music/Lyrics: Giles Robson | Credits: Giles Robson: vocs, harmonica / Mig Toquereau: bass / Pascal Delmas: drums / Franck Goldwasser: guitar / Philippe LeJeune: piano
Discography GILES ROBSON: Blues from the Road Vol. 1: FRANCE (EP,#5) [2023] | Blues from Bohemia (EP,3#) [2022] | Don't Give Up on the Blues [2019] | Journeys to the Heart of the Blues, by Joe Louis Walker, Bruce Katz & Giles Robson [2018] | For Those Who Needs the Blues [2016] | Crooked Heart of Mine, by Giles Robson & the Dirty Aces [2014] |