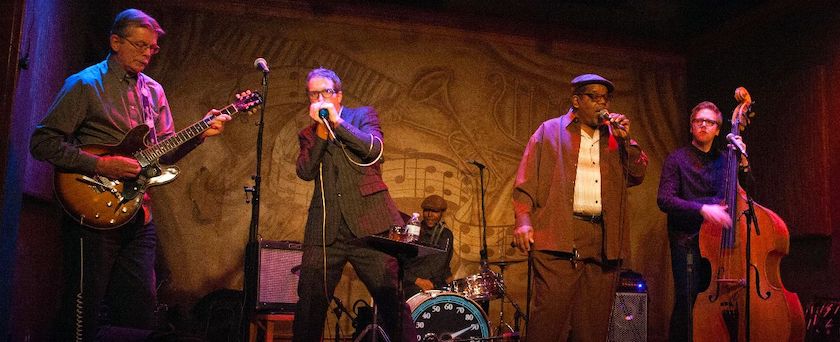 "One hundred percent Chicago blues performed by the right blues experts…"
Binnen de Chicago blues scene zijn het The Cash Box Kings-muzikanten die reageren tegen het verdwijnen van de typische sound van de jaren '40/'50, de oldskool R&B die Chess Records begin jaren vijftig typeerde. Voeg hier hun energie, frisheid en voldoende eigen ideeën aantoe, dan krijg je de karakteristieke CBKings-sound. Harmonicaspeler Joe Nosek en zanger Oscar Wilson, twee gelijkgezinde vrienden, vormen de hoekstenen van de band. Nosek, een liefhebber van Chess, Cobra en (de door Afro-Amerikanen gerunde) Vee-Jay Records, trad als mondharmonicaspeler op toen hij twintig was met Clyde "The Funky Drummer" Stubblefield" (James Brown), gitarist Luther Allison (1939-1997) en Casey Jones. In 2001, rond zijn vijfentwintigste richtte Nosek met Travis Koopman, Chris Boeger, Todd Cambio en Kenny "Beedy Eyes" Smith The Cash Box Kings op. Oscar "43 Street" Wilson is geboren in Chicago en komt uit een muzikale familie. Hij maakte zijn muzikaal debuut toen hij elf was. Hij zong toen samen met zijn buurman "Honey Boy" Edwards (1915-2011). Nosek en Wilson zijn de songwriters van de band. De anderen bandleden van dit "blues collectief" zijn, in verschillende combinaties, de beste hedendaagse traditionele blues muzikanten. Kenny "Beedy Eyes" Smith of Mark Haines zijn vaak de drummers en Billy Flynn of Joel Paterson (of beiden) de gitaristen. Occasioneel vervoegt "Cash Box Queen" pianiste Lee Kanehira hen. 
Drummer Kenny "Beedy Eyes" Smith had op zijn twintigste al de wereld rondgereisd en trad op/stond in de studio met topartiesten als pianist Pinetop Perkins, slide gitarist "Homesick" James, harmonicaspeler Billy Boy Arnold, gitarist Henry Townsend (1909-2006), zanger/harmonicaspeler Junior Wells (1934-1998) en countryzanger Jimmy Rodgers (1897-1933). Kenny is de zoon van de legendarische Willie "Big Eyes" Smith, die van 1968 tot 1981 de drummer van Muddy Waters was. Als blues drummer behoort Kenny bij de top en wordt hij veel gevraagd. Hij speelt op drums graag de shuffles uit de achterliggende steegjes, de sound die hij van zijn vader leerde.
In 2003 debuteerden TCBKings met 'Live! At the King Club'. Hun album 'Black Toppin'' (2013), een verzameling van Delta en Louisiana swamp en jump blues uit de jaren '70, kreeg een Blues Blast Award als "Traditional Blues Album of the Year" en 'Holding Court' (2015), werd in 2016 genomineerd met twee Blues Music Awards: "Best Traditional Album" en "Album of the Year".
In 2017 was 'Royal Mint' hun éérste Alligator release. In 2019 volgde al hun tiende studioalbum, 'Hail to the Kings' en daarna was het wachten tot 'Oscar's Motel', de derde Alligator Records' release. Naast Joe Nosek en Oscar Wilson waren ook Billy Flynn (lead gitaar), Kenny "Beedy Eyes" Smith (drums), John W. Lauler (bas) & Lee Kanehira (piano, orgel) in de studio er voor de opnames bij.
"While we are never afraid to tackle any subject, we decided to put aside everyday problems and have a bit more fun. So, no songs about COVID and this time nothing too political. Our goal was to have 'Oscar's Motel' be a celebration, an open invitation to leave your troubles behind and have a carefree, down-home, good time…" (Joe Nosek)
Voor 'Oscar's Motel' schreven Joe Nosek en Oscar Wilson met vrienden negen nieuwe nummers, de twee ontbrekende nummers zijn covers van Muddy Waters en Sonny Boy Williamson. In de originals gaat het erover dat we de nare dingen moeten vergeten en dat we opnieuw tijd moeten maken om plezier te maken. Voor de CBKings moest 'Oscar's Motel' een feest, een viering worden. Na de titelsong waarmee het album speels en swingend opent, is wat Oscar op "Down on the South Side" zingt, zowat een autobiografisch verhaal over de jaren dat de blues in Chicago bloeide. Oscar groeide op aan de ondertussen gekende muzikale Chicago South Side, waar zijn huis het toneel was van blues feesten met onder meer Junior Wells, Honeyboy Edwards en Elmore James, die jamden in de woonkamer van de familie. "Please Have Mercy" is een cover van een rustig Muddy Waters' nummer dat bij Chess uitgebracht werd in 1952 en "I Can't Stand You", een hilarische duet met Chicago bluesdiva, soul en gospel singer-songwriter, Deitra Farr. Joe Sonek staat twee keer achter de micro (telkens met Derek Hendrickson achter de drums), voor "Hot Little Mess" en "She Dropped The Axe on Me". Het gospelachtige "Nobody Called It the Blues" wordt gezongen door Cameron Webb en "Pontiac Blues" is een echte bluesy en rockende versie van een Sonny Boy Williamson nummer, dat door Nosek's harmonica volledig op sleeptouw genomen wordt. Billy Flinn componeerde de slow blues "Trying So Hard" en aan de levendige shuffle (met wervelde piano van Lee Kanehira) "I Want What Chaz Has" schreef hij ook mee. Opvallend is daarna nog het opzwepende "Ride Santa Ride" waarmee de CBKings afsluiten met duidelijke en aanstekelijke Bo Diddley-allures.
"On 'Oscar's Hotel', once again The Cash Box Kings pay tribute to the Chicago blues in their specific unparalleled way…" (ESC, Rootstime.be)
Eric Schuurmans
Releasedtum: 17 maart 2023
Album track list: 01. Oscar's Hotel – 02. Down on the South Side – 03. Please Have Mercy [McKinley Morganfield > Muddy Waters] – 04. I Can't Stand You – 05. Hot Little Mess - 06. Nobody Called It the Blues – 07. Pontiac Blues [Sonny Boy Williamson] – 08. Trying So Hard [B.Flynn] - 09. She Dropped The Axe on Me – 10. I Want What Chaz Has - 11. Ride Santa Ride / Music/Lyrics by: Joe Nosek & Oscar Wilson, w/D.Farr (4), Abrahamson & Procell (6), B.Flynn (10) or as [noted] - Produced by: Joe Nosek | Album credits:Joe Nosek: harmonica, vocs (5,9), a guitar (9) / Oscar Wilson: vocs / Billy Flynn: lead guitar, baritone guitar (5) / Kenny "Beedy Eyes" Smith: drums (1,4,7,8) / John W. Lauler: e + upright bass / Lee Kanehira: piano, organ & Guests: Deitra Farr: vocs (4) / John Nemeth: vocs (10) / Shoji Naito: rhythm guitar (1,4,7,8), kick drum (3) / Andrew Diehl: rhythm guitar (5,6,9,10,11) / Derek Hendrickson: drums (5,9,10,11) / Alex Hall: drums (2,6) / Cameron Webb: vocs (6) / Xavier Lynn: rhythm guitar (2) / Jon McDonald: guitar (3) & The C-Note Horns: Al Falaschi: tenor & baritone sax (2,5), Jim Doherty: trumpet (2)
Discography THE CASH BOX KINGS: Oscar's Hotel [2023] | Hail to the Kings [2019] | Royal Mint [2017] | Holding Court [2015] | Black Toppin' [2013] | Holler And Stomp [2011] | I-94 Blues [2010] | Cuttin' Heads Live @ the Cuda Café [2009] | The Royal Treatment [2006] | Black Night Fallin' [2005] | Live! At the King Club [2003]