De muzikale reis van Robert Jon (Burrison) & The Wreck begon in 2011 als de band debuteert met 'Fire Started', een rock en blues album met country en classic rock invloeden. Als ze in 2017 door Europa toeren en voor de éérste keer tijdens het (Ge)Varenwinkel Festival in Herselt optreden, is dit een serieuze springplank voor hun EU-populariteit. Dat ze er in de voorbije jubileum editie opnieuw bij waren, is ondertussen een vanzelfsprekendheid.

De band, afkomstig uit Orange County, CA, bestaat (momenteel) uit frontman Robert Jon Burrison (lead zang, gitaar), Andrew Espantman (drums, b-vocs), Henry James Schneekluth (lead gitaar, b-vocs) en Warren Murrel (bas). Onlangs werd toetsenist Jake Abernathie het nieuwe lid van The Wreck .
Robert Jon Burrison groeide op in Cerritos (CA) en zijn toekomst werd heel sterk bepaald door zijn vader. Robert Jon kon thuis gitaar spelen, drummen en -ook heel belangrijk- naar de oude LP's met gospelmuziek van zijn vader luisteren. Toen hij ouder werd, speelde hij thuis vaak in de garage en kon hij zo verschillende instrumenten uitproberen. Op de middelbare school zat, begon Jon zijn eerste eigen nummers te schrijven. Later op de universiteit in Glendora, ontmoette hij drummer Andrew Espantman en Wong. Als trio jamden ze regelmatig samen en ontmoetten ze Steve Maggiora. Later vervoegt gitarist Kristopher Butcher hen. In februari van 2011 richt Robert Jon Burrison zijn eigen band, The Wreck op. Zes maanden later hebben ze er al een eerste tournee opzitten.
In 2013 trekken ze in Hollywood de Swing House opname studio's in, om met producer Warren Huart (Aerosmith) en geluidsingenieur Philip Allen (Adele) de EP 'Rhythm of the Road' op te nemen. De master tape van het album werd gemaakt door Robert Vosgien (Smashing Pumpkins, No Doubt). In 2021 was 'Shine a Light on Me Brother' al hun zesde studio album. Robert Jon & The Wreck namen op 29 juni 2022 ook 'Live @ The Ancienne Belgique' op tijdens een uitverkochte show in de AB in Brussel.
'Ride into the Sun' is de opvolger. Het werd uitgebracht via Joe Bonamassa's Journeyman Records. Om hun traditionele productieproces nieuw leven in te blazen, werkte The Wreck voor deze release samen met de legendarische producers Don Was (John Mayer, Bonnie Raitt), Dave Cobb (Brandi Carlile, Chris Stapleton), Kevin Shirley (Iron Maiden, The Black Crowes) en gitaar maestro's Joe Bonamassa & Josh Smith (Marc Broussard, Eric Gales, Joanne Shaw Taylor).
'Ride Into The Light' zit vol met zinderende blues/rock en zonovergoten Americana-ballads en is even soul-ontroerend, wat bewijst dat rock & roll bloeit anno 2023. Het album start met 4 nummers van de recente EP 'One of a Kind'. Deze nummers werden geproduceerd door Grammy Award-winnaars Don Was & Dave Cobb. Met "Pain No More" opent het album fors, "Who Can You Love" is een Southern rock nummer met een mooie melodie, een erg radio vriendelijke nummer en "Come At Me" een rocker die het live zeker zal doen. "One of a Kind" is een herkenbare, goed in de oren klinkende roadsong.
Resten er nog de singles "Bring Me Back Home Again", "West Coast Eyes" en "Don't Look Down". Het eerste drijft op de slide akkoorden van Henry James en de prachtige stem van Robert Jon, het tweede is een nummer om je ogen bij dicht te doen en te dromen over je geliefde en het derde spreekt nog méér voor zich door het sterke drumwerk, de Hammond in de achtergrond én een sterke riff. Afsluitend rest er de titeltrack. Die is nu al een hit!
"'Ride Into the Light' summarizes well what kept Robert Jon & The Wreck musically busy in recent months…" (ESC, Rootstime.be)
Eric Schuurmans
10 CD's te winnen!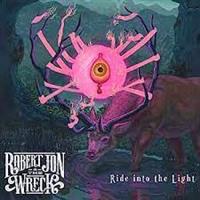 Wil je daar kans op maken, dan mail je ons gewoon even:
je naam, je adres en de vermelding: ROBERT JON & THE WRECK
Binnen een aantal weken wordt uit alle inzendingen de gelukkigen getrokken.
Wij hopen dat u massaal Rootstime - hier - zult mailen
De winnaars worden per mail verwittigd.
'RIDE INTO THE LIGHT': tracklist: 01. Pain No More* – 02. Who Can You Love* – 03. Come At Me* – 04. One of a Kind* – 05. Bring Me Back Home Again – 06. West Coast Eyes – 07. Don't Look Down – 08. Ride Into the Light (-from 'One of a Kind' 2023-EP) | Music/Lyrics: Robert Jon & the Wreck | Producers: Don Was, Dave Cobb & Kevin Shirley | Credits: Robert Jon Burrison: lead vocals, guitar & The Wreck:Henry James: lead guitar, bvs / Andrew Espantman: drums, bvs / Warren Murrel: bass / Steve Maggiora: keys, bvs

Discography ROBERT JON & THE WRECK: 7-Ride into the Sun [2023] | "Don't Look Down" [2023] | "West Coast Eyes" [2023] | "Bring Me Back Home Again" [2023] | Live @ The Ancienne Belgique [2023] | "Blame It on the Whiskey" [2023] | "Hey Hey Mama (Live)" [2023] | "Shine a Love On Me Brother (Live)" [2023] | One of a Kind (EP,4#) [2023] | "Come At Me/Who Can You Love/Pain No More" [2023] | "Who Can You Love" [2022] | "Pain No More" [2022] | Wreckage, Vol.2 (Live) [2022] | "Old Hotel Room" (Live from Sunset Sound) [2022] | "Rescue Train" (Live from Shuffle Brother Studios) [2022] | "She's a Fighter/Waiting for You Man" [2022] | "Waiting for You Man" [2022] | Jam in the Van: "Oh Miss Carolina/Everyday" (Live Session, Mammoth Lakes, CA, 2021) [2021] | 6-Shine a Light on Me Brother [2021] | "Shine a Light on Me Brother" [2021] | 5-Last Light on the Highway [2020] |Rescue Train (compilation) [2020] | "Tired of Drinking Alone" [2020] | "Oh Miss Carolina" [2020] | 4-Take Me Higher [2019] | Live from Hawaii [2018] | Robert Jon & The Wreck (EP,8#) [2018] | Wreckage, Vol.1 (B-Sides Collection) [2017] | 3-Good Life Pie [2016] | 2-Glory Bound [2015] "The Chain (Live @ Hybrid Studios)" [2015] | The Redbull Sessions (EP,6#) [2014] | "Blame It On the Whiskey" [2014] | Rhythm of the Road (EP,6#) [2013] | "Bottle/Breaking Down the Road", w/Jeremiah Red [2012] | 1-Fire Started [2011] | ("single")