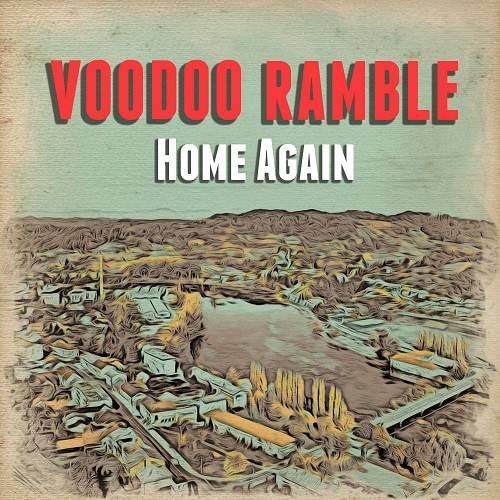 Artiest info
Website
facebook
label: Thoroughbred Music / Boris Dugi-Novački (Zamba)
Voodoo Ramble is een toonaangevende blues/rock band uit Kroatië, die in 2010 opgericht werd door gitarist, zanger en songwriter Boris Dugi-Novački, alias Boris Zamba, die in 2014 zijn land vertegenwoordigde tijdens de IBC in Memphis. In 2016 nam Voodoo Ramble deel aan de EBC in Toscane, Italië. De leden van toen waren  Nino Krznar (bas), Mario Klaric (drums) & Sinisa Drobnjak (gitaar).Voodoo Ramble is een band die van zichzelf zegt dat ze "altijd hun eigen weg gaat".
Voodoo Ramble debuteerden in de studio met 'Home', in 2018 verscheen 'That's Why' (met op bas Hrvoje Kralj & op drums Mario Klaric – producer: Dragutin Smokrovic aka The Fig) en vorig jaar, 'Can't Write a Pop Song – When You've Got the Blues' (2022). Op hun nieuwe/derde album, 'Home Again' vervolgen ze de eerder ingeslagen weg die "horizon verbredend is, zonder buiten het kader te treden dat ze zichzelf opleggen".
Al vanaf "The Waterfall", de opener, is het duidelijk dat het geluid strakker is, de nummers volwassener zijn en dat de band profiteert van bredere arrangementen en productie. Frontman Boris Zamba is daarbij ook duidelijk gegroeid als een gevestigde songwriter. Zamba (zang, gitaar, bas) trok voor de opnames naar de studio met Toni Lesko (drums) & Neven Resnik (Hammond orgel). De nummers waarmee ze zeker zullen scoren zijn "The Smell of Love", het rustige en door het Southern aanstekelige "Home", "I Found the Blues", het pittige en radiovriendelijke "Little Blues Queen", "Street Livin'", het opzwepende "Goin' Wild", "Like an Aeroplane" en "Love".
"With 'Home Again' Voodoo Ramble continues the path previously taken and scores again with better catchy blues rock…" (ESC, Rootstime.be)
Eric Schuurmans
'HOME AGAIN': tracklist: 01. Waterfall – 02. Baby I've Been Loving You – 03. The Smell of Money – 04. Bye Bye Love - 05. Home – 06. Lesson I'll Never Forget – 07. I Found the Blues – 08. Little Blues Queen – 09. Street Livin' – 10. Goin' Wild – 11. Like An Aeroplane – 12. Love | Music/Lyrics: Boris Dugi-Novački | Credits: Boris Dugi- Novački, alias Boris Zamba: lead vocs, guitars, bass / Toni Lesko: drums / Neven Resnik: Hammond organ
Discography VOODOO RAMBLE: Home Again [2023] | Can't Write a Pop Song (When You've Got the Blues) [2022] | That's Why [2018] | Home [201x] |