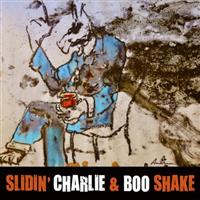 Artiest info
facebook
label: Ember Records
Slidin' Charlie & Boo Shake zijn als muzikaal duo Carlo Pipitone (zang, gitaar) & Giuseppe Buscemi (drums), twee muzikanten uit Palermo, Italië. Ze ontmoetten elkaar midden jaren 2000 en speelden samen in een lokale bar band. In 2011 werd Slidin' Charlie & Boo Shake een feit. Hun brede muzikale interesse gaat naar country en bluegrass, garagerock en punk, folk en reggae, rock en jazz.
In mei bracht het duo hun titelloos full-length debuut album uit bij Ember Records. Op de tracklist staan 9 zelfgeschreven nummers met "eigenzinnige" blues -te omschrijven als een mix van Chicago, zompige Delta en North Mississippi Hill Country blues- én "Bourgeois Blues", de afsluiter, een Leadbelly-cover. Hun teksten gaan -zoals meestal in blues nummers- over de spanningen, onzekerheden en ook vreugdevolle momenten in het dagelijkse leven.
Wat je al na enkele nummers zult merken, is dat hun blues rauw, dynamisch en vooral rechttoe rechtaan is en het resultaat is, van de gepassioneerde fusie van drums en elektrische gitaar. De geest van R. L. Burnside, Fred McDowell of Junior Kimbrough kom je op nummers als "Try Me", "Between You and Me",  "A Long Time Ago" en "Bad Thoughts" zo tegen. Het Southern / country gevoel is hoog op "Driving" en "My Redhead" en, er zit wat van Chicago in "Once I Had a Girl" en "When You Got a Good Girl". Tenslotte zeker nog een pluim op de hoed van de PA-man van de Ember Recording Studio, hij wist alles heel "puur" en zuiver te archiveren!
"Slidin' Charlie & Boo Shake do it extremely straight forward on their self-titled debut, but above all raw, pure and authentic (puro e autentico)…" (ESC, Rootstime.be)
Eric Schuurmans
'SLIDIN' CHARLIE & BOO SHAKE': tracklist: 01. Try Me – 02. Between You and Me – 03. Driving – 04. A New Man – 05. My Redhead – 06. A Long Time Ago – 07. Once I Had a Girl – 08. When You Got a Good Girl – 09. Bad Thoughts – 10. Bourgeois Blues [Huddie William Ledbetter] | Music/Lyrics: C. Pipitone & G. Buscemi, or as [noted] | Credits: Carlo Pipitone: vocs, guitars / Giuseppe Buscemi: drums 
Discography SLIDIN' CHARLIE & BOO SHAKE: Slidin' Charlie & Boo Shake [2023] |