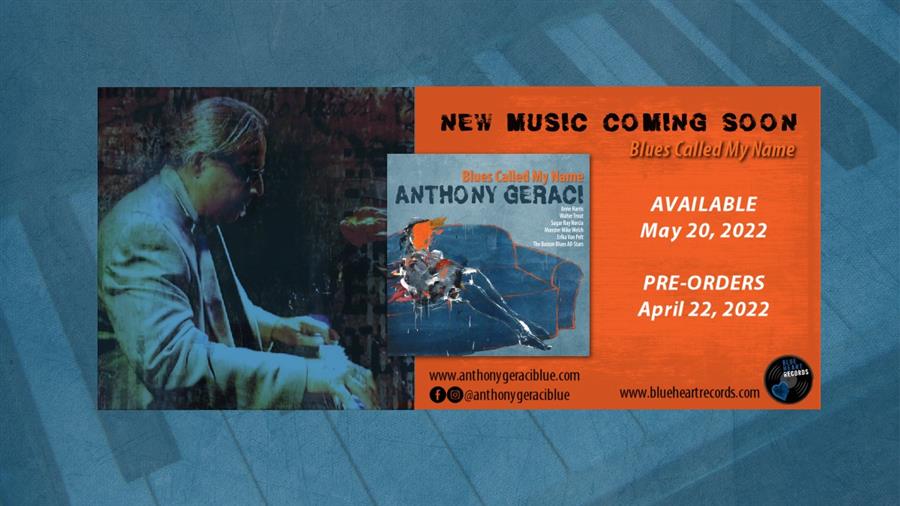 "Blues Music Award Winner / Grammy Nominated Blues and Jazz Pianist…"
Anthony Geraci wist als vierjarige al dat hij ooit pianist wou worden. Zijn ouders waren zelf niet erg muzikaal, maar steunden hem in zijn passie en voornemens. Hij volgde eerst piano lessen in New Haven, Connecticut en later aan het Berklee College of Music in Boston. Op school raakte hij bevriend met Ed Cherry, die later jazz gitarist werd.
Veteraan Anthony Geraci zit ondertussen al méér dan 40 jaar als blues/jazz pianist en componist in het vak. Geraci is nog steeds een origineel lid van Sugar Ray & the Bluetones én van Ronnie Earl & the Broadcasters. Hij had ook een eigen band, Little Anthony & the Locomotives. Opnoemen met wie hij al op het podium stond en tijdens welke festivals (waaronder Blues Peer) of voor wie hij al componeerde, is een onbegonnen taak (en kan je op zijn site in detail terug vinden).
In 2000 werd Geraci genomineerd voor een Grammy (voor het album 'Super Harps', waaraan James Cotton, Charlie Musselwhite, Billy Branch en Sugar Ray Norcia meewerkten). Geraci kreeg in 2008 twee W.C. Handy awards en de Blues Foundation Awards voor "Best Blues Album" (voor 'My Life, My Friends, My Music') en "Song of the Year" (voor 'The Last Words of a Fool' met Sugar Ray & the Bluetones).
In 2015, op 'Fifty Shades of Blue', zijn éérste album voor Delta Groove, was Anthony Geraci vergezeld van "de" Boston Blues All-Stars: Sugar Ray Norcia (zang, harmonica), Darrell Nulish (zang, harmonica), Toni Lynn Washington (zang), Michelle "Evil Gal" Willson (zang), Monster Mike Welch (gitaar), Michael "Mudcat" Ward (bas), Marty Richards (drums) & Neil Gouvin (drums). 
Aan Geraci's album 'Why Did You Have to Go' (2018) nodigde Geraci een indrukwekkend aantal vrienden -Blues Music Awards winnaars & leden van de Bluetones- uit: Ronnie Earl, Sugar Ray Norcia, Monster Mike Welch, Michael "Mudcat" Ward & Neil Gouvin. De lijst is nog niet volledig, want er ontbreken nog zangeres Michelle "Evil Gal" Wilson, zangers Sugaray Rayford, Willie J.Laws, Dennis Brennan & Brian Templeton, gitaristen Kid Ramos & Troy Gonye, bassist Willie J.Campbell, drummers Jimi Bott & Marty Richards en een blazerssectie ("Sax" Gordon Beadle & trompettist Doug Woolverton).
Voor zijn nieuwe album 'Blues Called My Name' trok hij naar de studio met o.a. Sugar Ray Norcia (zang), bassist Paul Loranger & drummer Jeff Armstrong, gitarist Charlie O'Neal én meerdere gast gitaristen waaronder Monster Mike Welch en Walter Trout, zangeres Erika Van Pelt (op het droevige "Corner of Heartache and Pain) en violiste Anne Harris (op "Wading in the Vermillion").
Van de tien originele nummers, zijn de helft instrumentale* nummers. "That Old Pine Box" waarmee Geraci het album opent, is een tomeloze ode aan de sterfelijkheid. Sugar Ray Norcia zingt: "All the angels are callin' to me/From the heavens they leave their gate…". Over Geraci's grootste liefde zingt Norcia in de titelsong: "I said the blues whispered she ain't coming home no more/I just cried like a little bitty baby when she walked on out that door…". De gitaar van Monster Mike Welch snijdt hier doorheen, terwijl Geraci koel op zijn barrelhouse-piano tokkelt. "About Last Night" en "Boston Stomp" die dan volgen, zijn de eerste instrumentals. Het eerste is een fascinerend, door het Hammond orgel gedreven Latino nummer en het tweede, een krachtig piano nummer, dat doet wat de titel doet vermoeden. "I Go Ooh" is het enige nummer, waarop Geraci zelf zingt: "I love 'em thick in the thighs, hair like an angel/Baby blue eyes, lips that make you cry/A smile that'll make you jump for joy/And loving that'll make you testify…". Op "Into the Night" is Walter Trout de dikke vis aan de haak en speelt Geraci zowel piano als Hammond. Voor "I Ain't Going to Ask" staat Sugar Ray terug achter de microfoon. Er volgen nog twee instrumentals, waarvan "Song for Planet Earth", met alleen Geraci achter de piano, de afsluiter is.
"On 'Blues Called My Name' Anthony Geraci reminds us on every song what a talented pianist and Hammond player after more than 40 years he still is…" (ESC for Rootstime)
Eric Schuurmans
10 CD's te winnen!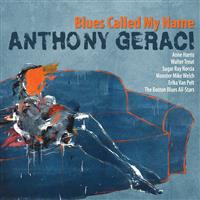 Wil je daar kans op maken, dan mail je ons gewoon even:
je naam, je adres en de vermelding: ANTHONY GERACI
Binnen een aantal weken wordt uit alle inzendingen de gelukkigen getrokken.
Wij hopen dat u massaal Rootstime - hier - zult mailen
De winnaars worden per mail verwittigd.
Album tracklist: 01. That Old Pine Box – 02. The Blues Called My Name – 03. About Last Night* – 04. Boston Stomp* – 05. Corner of Heartache and Pain – 06. I Go Ooh – 07. Into the Night* – 08. I Ain't Going to Ask – 09. Wading in the Vermillion* – 10. Song for Planet Earth* | Music/Lyrics by: Anthony Geraci | Produced by: Anthony Geraci | Album credits: Anthony Geraci: piano, Hammond organ / Vocs: Sugar Ray Norcia (1,2,8), Erica Van Pelt (5), Anthony Geraci (6) / Guitar: Charlie O'Neil (1,3,5,6), Monster Mike Welch (2), Walter Trout (7), Barrett Anderson (8) / Bass: a: Paul Loranger (1,2,4-9), Chris Rathbun (3) / Drums: Jeff Armstrong (1-9) / John Vanderpool: tenor sax (6) / Anne Harris: violin (9)
Discography ANTHONY GERACI: Blues Called My Name [2022] | Daydreams in Blue [2020] | Why Did You Have to Go [2018] | Fifty Shades of Blue, w/The Boston Blues All-Stars [2015] | Don't Wait On Me [2015] | Serendipity [2011] | Wake Up [2008] | The Gift [2005] | Take It from Me, Little Anthony & The Locomotives [1994] || w/SUGAR RAY & the BLUETONES: Seeing Is Believing [2016] | Too far from the Bar, feat. Little Charlie Batty [2020] | Seeing is Believing [2016] | Blues for Big Walter [2016] | Living Tear to Tear [2014] | Evening [2011] | My Life, My Friends, My Music [2007] | Hands Across the Table [2005] | Sugar Ray & The Bluetones, feat. Monster Mike Welch [2003] | Rockin' Sugar Daddy [2001] | Don't Stand In My Way [1991] | Bite the Dust [1989] |  Knockout [1989] | Deep Blues [1988] | Little Boy Blue (Live @ the Knickerbocker Club), Walter Horton w/Sugar Ray & the Bluetones [1980] | Sugar Ray and the Bluetones [1979] |