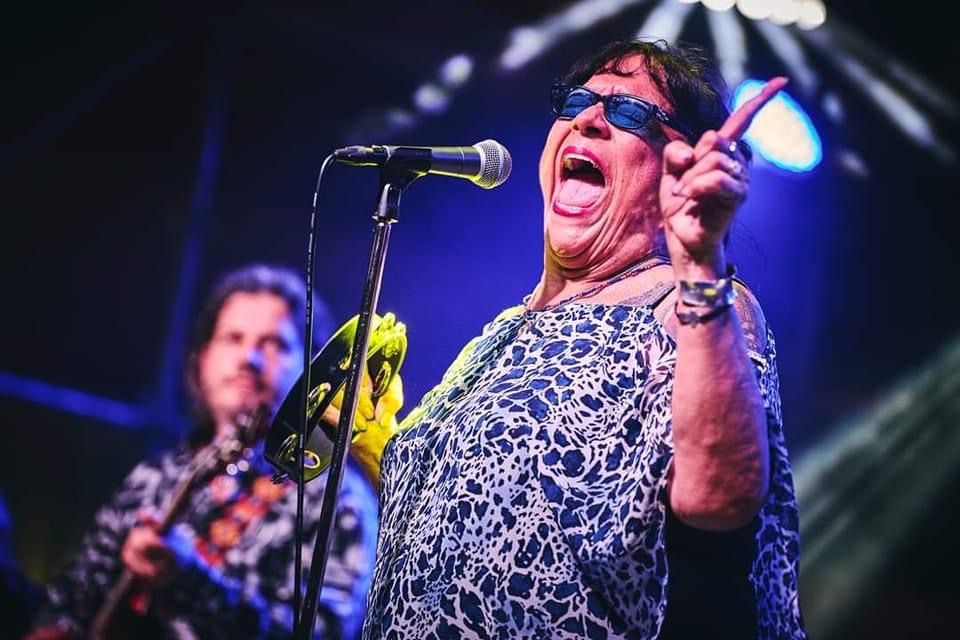 "The Reigning Queen of Beale Street.."
Barbara Blue is geboren en getogen in Pittsburgh (PA). Als kind zong ze al in de kerk en op school, waar ze ook deel uitmaakte van de schoolband. In 1977 vertrok ze naar Phoenix (AZ) om aan haar solo carrière te beginnen. Tussen 1980 en 1987 verbleef ze in Detroit (MI) waar ze studeerde en ook al optrad met de City Limits Blues Band. In 1987 verhuisde ze terug naar Pittsburg, waar ze met een eigen band 's avonds optrad in clubs. In 1989 bracht ze haar debuut album 'Out of the Blue' uit. Barbara trok in 1997 naar Memphis, waar ze ondertussen ook woont. Ze treedt er nu al bijna 25 jaar lang iedere avond op in Beale Street, Downtown Memphis.
Met Taj Mahal's Phantom Blues Band (Tony Braunagel - drums, Mike Finnigan - keys, Johnny Lee Schell - gitaar, Larry Fulcher - bas) & The Texicalli Horns (Darrell Leonard - trompet & Joe Sublett - tenor sax) nam ze drie albums op: 'Sell My Jewelery' (2002), 'Memphis 3rd & Beale' (2004) en 'Love Money Can't Buy' (2006). In Londen kwam in 2007 'By Popular Demand' uit en in 2008 een éérste (er volgen er nog twee!) LIVE album. Het werd opgenomen in de Silky O'Sullivan's in  Beale Street. 'Royal Blue' (producer Lawrence "Boo" Mitchell) verscheen in 2010. Aan dit album werkten Lester Snell (op keys) en Charles "Skip" Pitts (op gitaar) mee.
Het met de veelzeggende titel, 'Sweet, Strong & Tight' (2014) was het tiende album van Barbara "Memphis" Blue. 'Fish in Dirty H2O' (2018) nam ze op met als producer Jim Gaines. 'From the Shoals', het 13de album van Barbara Blue, werd vorig jaar opgenomen in de legendarische Nutthouse Studio in Muscle Shoals, Alabama. De album line-up bestond verder uit muziek ikoon Bernard "Pretty" Purdy op drums, sessie masters David Hood op bas & Clayton Ivey op keyboards, Will McFarlane op gitaar en Davor "Hutch" Hačić (Barbara's Kroatische songwriting partner) als lead gitarist. Van de dertien tracks zijn er elf origineel.
Het prachtige funky titelnummer "The Shoals" wordt gevolgd door een aanstekelige bluesy song genaamd "Nutthouse Blues". De volgende nummers behandelen onderwerpen als verbroken relaties: "Severed", (de vloek van) schoonheid:  "Curse of Beauty" en (verloren jonge) liefde: "Lost Young Love". Wat kan er hier dan nog méér "Muscle Shoals" klinken dan "Tell Mama" of de soulvolle ballade "Steal Away"? Barbara hervat dan sterk geëmotioneerd op "Too Far", waarin ze zingt over hoe ze te veel over zichzelf weet en, hoe ongrijpbaar geluk is voor sommige mensen van wie je houdt. Ware liefde: "Never Stopped Loving You" en het hunkerende streven ernaar is een gemeenschappelijke noemer op een groot deel van 'From the Shoals', die eindigt met "Song of the River" en "Trail of Tears".
"To know how to sing soulfully about love, listen to Barbara Blue's 'From the Shoals'…" (ESC, Rootstime.be)
Eric Schuurmans
10 CD's te winnen!
Wil je daar kans op maken, dan mail je ons gewoon even:
je naam, je adres en de vermelding: BARBARA BLUE
Binnen een aantal weken wordt uit alle inzendingen de gelukkigen getrokken.
Wij hopen dat u massaal Rootstime - hier - zult mailen
De winnaars worden per mail verwittigd.
'FROM THE SHOALS': tracklist: 01. The Shoals - 02. Nutthouse Blues - 03. Tell Mama [C.Carter, W.Terrell, M.Daniel] - 04. Steal Away [J.Hughes] - 05. Severed - 06. Curse of Beauty - 07. Lost Young Love - 08. Slide Man - 09. Too Far - 10. Nothing Lasts Forever - 11. Never Stopped Loving You - 12. Song of the River - 13. Trail of Tears | Music/Lyrics: Barbara Blue, w/ Davor "Hutch" Hačić (1,2,6,7,9,10,12,13), w/M.Narmore (5,8,11) or as [noted] | Producer: Jim Gaines | Credits: Barbara Blue: vocs / Bernard "Pretty" Purdy: drums / David Hood: bass, b-vocs (12) / Clayton Ivey: keyboards, b-vocs (12) / Will McFarlane: guitar, b-vocs (12) / Davor "Hutch" Hačić: lead guitar, b-vocs (6,12) / Brad Guin: sax / Marc Franklin: trumpet / B-vocs: Kimberlie Helton (6) , Cecilia Purdle (12)
Discography BARBARA BLUE: From the Shoals [2023] | Fisch in Dirty H2O [2018] |  Memphis Blue: Sweet, Strong, & Tight [2014] | Jus' Blue (compilation) [2012] | Royal Blue [2010] | LIVE (@ Silky O'Sullivan's) - Vol. 3 [2009] | LIVE (@ Silky O'Sullivan's) - Vol. 2 [2008] | LIVE (@ Silky O'Sullivan's) - Vol. 1 [2007] | By Popular Demand!, w/The Phantom Blues Band (compilation) [2007] | Barbara Blue & the Phantom Blues Band (compilation) [2007] | Love Money Can't Buy [2006] | Memphis 3rd & Beale [2004] | Sell My Jewelery [2002] | Out of the Blue [1989] |