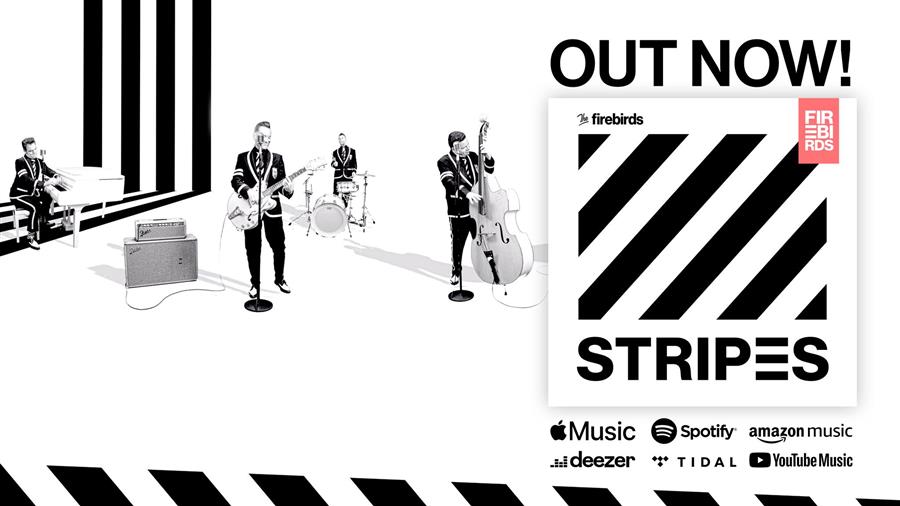 "Was ist eigentlich Rock'n'Roll?…"
The Firebirds is een rock'n'roll band, die  méér dan 30 jaar geleden werd opgericht door drummer Guido Gentzel en bassist Konrad Schöpe in een school in Leipzig. Het duurde (slechts) vijf jaar vanaf het eerste optreden, om van de op maat gemaakte zwart-wit gestreepte showpakken hun signature te maken. Alles ging voor hen erg snel, met méér dan 4.000 shows (en méér dan 300 nummers uit de jaren '50 en '60 in hun programma) die ze tot nu toe zijn gespeeld en de gezamenlijke tours met wereldsterren zoals Chuck Berry en/of Bill Haley's Comets. Dit los van hun eigen muzikale showproducties en thematours, eigen festivalweekends in Trebsen Castle en "The Firebirds Rock'n'Roll Cruise". Met eigen songs bewijzen ze ondertussen dat ze evergreens niet alleen op een sexy nieuwe manier kunnen aankleden.
The Firebirds debuteerden in 2000 met 'Great (Balls) Birds of Fire'. Ondertussen zijn hun "Stripes" een handelsmerk geworden en het gelijknamige jubileumalbum vat alles netjes samen. Afgezien van de eigenzinnige versies van "Blinding Lights" (The Weeknd) en "Step By Step" (New Kids On The Block), vind je hier verder enkel originele The Firebirds-songs als "You Don't Like to R'n'R" (dat knipoogt naar de Stones), het burleske "Mama Should Know", de mooie ballade "Moviestar", het rauwe "My Guitar" en het veelzeggende "Let the Good Times Roll", die erg divers zijn en een surplus voor hun live programma. R'n'R, R&B, Rockabilly, Country, Swing, Jazz, Blues, Surf, Soul, Doo Wop en 60's-Pop, je vind het allemaal op deze nieuwe release. De glasheldere en state-of-the-art productie van Bernd Batke (Smokestack Lightnin') zorgt voor het perfecte contrast met de nostalgische vibe van de muziek.
"De "STRIPES" van The FIREBIRDS zijn inmiddels een handelsmerk geworden en het gelijknamige jubileumalbum vat alles verder goed samen…" (ESC, Rootstime.be)
Eric Schuurmans
'STRIPES': tracklist: 01. You Don't Like to R'n'R – 02. Blinding Lights [The Weeknd] – 03. Sweet Kisses – 04. Mama Should Know – 05. Boyfriend – 06. The Way Love Goes – 07. Moviestar – 08. Mr. Sunshine – 09. My Guitar – 10. Area 51 – 11. Down By the Sea – 12. Step By Step [New Kids On The Block] – 13. Let the Good Times Roll | Music/Lyrics: The Firebirds, or as [noted] | Producer: Bernd Batke | Credits: Guido Gentzel: drums, zang / Konrad Schöpe: e + a bas / Krusdy van Friday: gitaar, zang / Henning Plankl: sax, fluit, zang / Roy J. Martin: piano, gitaar, zang 
Discography THE FIREBIRDS: Stripes [2023] | Rock'n'Roll Cruise Compilation [2021] | 25 Jahre The Firebirds - Jubiläumshow [2020] | The Firebirds Rockestra - Live in Berlin [2018] | Firebirds Meets the Pearlettes [2015] | Live! 20 Jahre Firebirds Jubilaumsshow [11/2013] | Back to the 50's & 60's [06/2013] Peanuts [2011] | Rock and Roll, Baby! [2010] | Stars In Stripes [2008] | Great (Balls) Birds of Fire [2000] |